Electronic waste, or e-waste, refers to all items of electrical and electronic equipment (WEEE) and its parts that have been discarded by its owner as waste without the intent of re-use.
50 Million tons of e-waste will be generated this year, according to an investigation made by The United Nations University Institute for the Advanced Study of Sustainability. The pollution generated by e-waste is a real problem that affects directly to the environment and the whole world in different aspects.
E-waste is one of the most hazard and polluting wastes generated by the industries, due the risks that can affect people's health and create environmental ecocides, this can happen owing to elements like mercury, cadmium and lead to mention a few of many that computers, phones, laptops, printers, keyboards, and all electric and electronic devices have.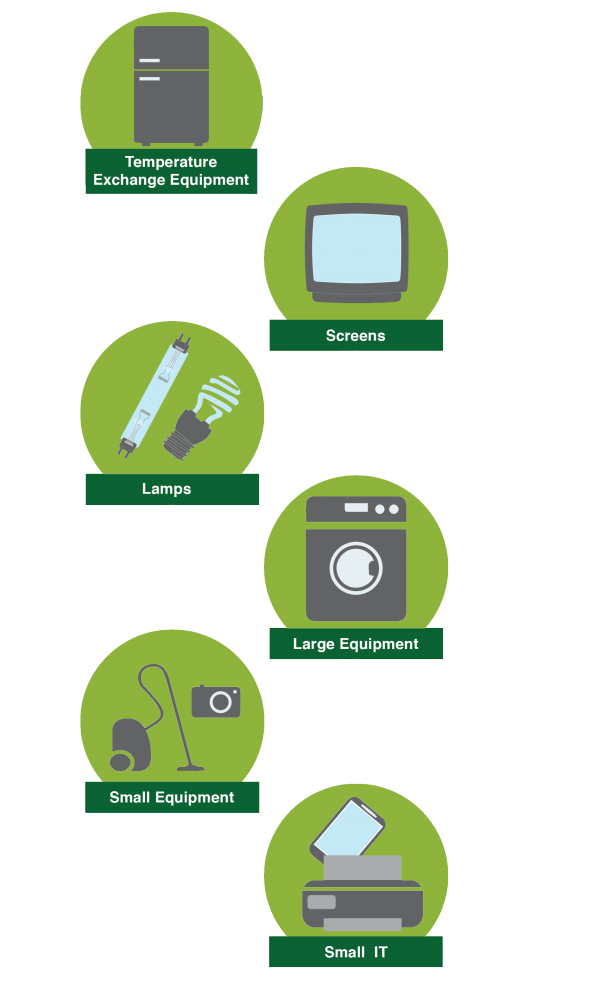 The definition of e-waste is very broad. It covers six waste categories:
Temperature exchange equipment, more commonly referred to as cooling and freezing equipment. Typical equipment includes refrigerators, freezers, air conditioners, and heat pumps.
Screens, monitors. Typical equipment includes televisions, monitors, laptops, notebooks, and tablets.
Lamps. Typical equipment includes fluorescent lamps, high intensity discharge lamps, and LED lamps.
Large equipment. Typical equipment includes washing machines, clothes dryers, dishwashing machines, electric stoves, large printing machines, copying equipment, and photovoltaic panels
Small equipment. Typical equipment includes vacuum cleaners, microwaves, ventilation equipment, toasters, electric kettles, electric shavers, scales, calculators, radio sets, video cameras, electrical and electronic toys, small electrical and electronic tools, small medical devices, small monitoring and control instruments.
Small IT and telecommunication equipment. Typical equipment includes mobile phones, Global Positioning Systems (GPS), pocket calculators, routers, personal computers, printers, and telephones.
Since technology is daily growing and upgrading there are steps and things we can do to become more environmental-responsible and at the same time you can even make money by following the "Three R's of Environment".